2023-10-31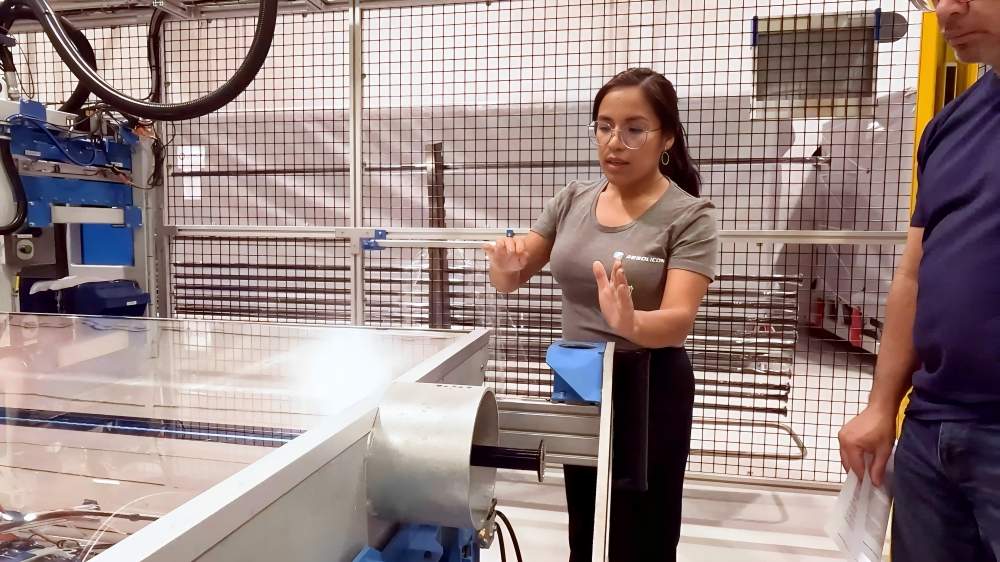 Hej Briss! Please tell us some about your background.
"I am Briss Taipe, originally from Peru and a resident of Europe since 8 years. I graduated in Energy Engineering in France before moving to Sweden. My specialization is in solar energy and renewable energy. In my role as a Business Engineer I am currently expanding my skills in business, sales, and business management as I am working in technical sales and business development at Absolicon."
What experiences have you gained in your career path after the academic period?
"Throughout my career, I have held various internships during my academic education. I had the opportunity to conduct research on photovoltaic modules and floating photovoltaic systems in Malta. In addition, I have worked near district heating and boiler production facilities in Chambery, France. This experience allowed me to explore the field of heat distribution, ventilation, and air conditioning.
When I came to Sweden, I further deepened my studies by dedicate myself to the field of solar energy, focusing mainly on photovoltaic technology. However, everything changed when I had the opportunity to join Absolicon. Here I discovered a whole new world, as I focused on concentrating solar thermal applications, an area I had never been aware of during my studies of renewables and solar energy."
What challenge do you see specializing in solar thermal?
"The difference between the electricity market and the solar thermal market is obvious. Most people are only familiar with photovoltaic energy, while solar thermal is still not as well known. When you say you study solar energy, most people immediately think of electricity, and everything related to lighting and power. Solar thermal is mainly associated with residential use to heat water or for heating systems. However, it was an interesting and positive choice to focus on solar thermal and to understand how this energy can be applied in the industrial setting, which is a smaller segment within the vast solar thermal market.
It is important to understand that energy is energy, regardless of the source. We often talk only about electricity bills, but it is important to consider other sources of energy, which contribute to our overall energy balance. Solar thermal is a valuable and sustainable option that should be included in our overall view of energy sources."
What is your role in the company and what are your activities?
"Our company, Absolicon, not only provides machinery and robots, but offers a full service that includes training, business development, and financial assistance for our partners.
As a Business Engineer at Absolicon, my role is to help partners become independent manufacturers of our solar thermal systems, supporting them at all stages, from studying the local market, to knowledge transfer, to support in customer approach and handling financial issues. It is a varied and challenging job, as it allows me to collaborate with different players and contribute to the development of our products internationally."
In what way have your role developed in Absolicon and what are your professional goal looking forward?
"I started by analyzing the market to produce solar thermal systems. My first assignment was for a production line in Latin America, where I was also very involved in the simulation and pre-design of the solar array. Initially, I gained experience in the technical side, understanding the collection and evaluation needs of the customer, as well as performing technical calculations.
Over time, I took a more evaluating and follow-up-oriented position with our clients. Working with partners, I helped initiate production line partnerships in various countries. My goal is to deepen my skills in business development at Absolicon by combining my passion for renewable energy, industrial thermal solarization and international business. Personally, I'm deeply committed to sustainability, and working at Absolicon allows me to be part of the vision to decarbonize the world. I believe in collaboration with other technologies and institutions to achieve our goals."
What problem do you solve for the customer?
"Our goal is to produce locally as much as possible, so we help partners identify local suppliers for collector materials and parts. We provide technical support to handle all these questions and make sure the production process is efficient and in accordance with our business model.
We are there to support partners both in answering their industrial customers' questions about collectors and in creating a business plan and understanding how the production line for solar collectors works.
As part of building a solid solar business case with our partners we explore different financing solutions. There are several grant opportunities for production lines in European countries, especially with the advent of the European Green Deal, which incentivises the production of renewable energy. Grants are a valuable opportunity to support our business and the local production of our solar collectors."
How do you collaborate with the other departments?
"Our department manages our partners' processes for local production of our products. We cooperate with various internal departments to meet the specific needs of our partners. For example, we support product localization by involving the Procurement department for precise material information. The Marketing department plays a key role in creating customized promotional materials for both Absolicon and partners. We maintain a constant dialogue with partners and often serve as an interface in business interactions.
We understand the importance of providing comprehensive support to our partners as we sell them not only machinery, but the idea of a local manufacturing business. Every day we face various activities such as contacting customers, negotiating local prices, and working with local suppliers. Our goal is to build a strong relationship with partners and make sure their local manufacturing business is successful."
What do you expect from global energy demand in the next 10 years?
"In the past three years, I've observed a significant shift in the market. Initially, we had to explain the concept of energy and electricity, but now people are more aware and actively seeking decarbonization and energy solutions. Encouragingly, reports such us the IRENA report further support our mission.
Looking ahead, the world have ambitious targets, such as installing 120 million m2 of solar thermal by 2030 (established by IRENA to uphold the Paris Agreement and meet the 1.5 degree target.). While it might seem challenging, I'm optimistic about our success and solar thermal becoming a significant part of the solution."
Thank you for your insights Briss, can you also share some free time activities you enjoy to do here in Sweden?
"I really enjoyed nature when I lived in Härnösand, Sweden. It was a perfect place to enjoy outdoor activities such as running, hiking and even skiing in winter. Although I lived in other mountainous areas such as the French Alps, it was in Härnösand that I learned to ski.
Since Härnösand is a small town, I had the opportunity to immerse myself in nature and appreciate it to the fullest.
Now, I live in Gothenburg, a city I love even more because it offers both the beauty of nature and a vibrant city life. Here I can enjoy activities such as dancing, visiting museums and taking part in cultural events. In addition to working, I enjoy to meet new people and have fun outside of work, which is crucial for personal well-being."
Would you like to share an aspiration or some advice?
"The urgency of the situation is something that has been on my mind lately. It's crucial to recognize that we can't predict what the future holds, and if we don't take calculated risks and act with urgency today, we will continue to miss chances for meaningful change. Unfortunately, this is something we tend to do as a society, and it's essential to break this pattern and prioritize immediate action and investment in sustainable solutions. Time is of the essence, and we must seize the moment to create a better future for ourselves and future generations."
Useful links
Production line partnership >>
Learn more about solar thermal energy >>